Leadership practices that work
Real stories. Research based.
Business focused.
Leadership practices that work
Real stories. Research based. Business focused.
Mark Milotich
Anyone who's ever tried to quit smoking, eat less or exercise more knows that changing personal habits is hard. The more often we repeat a routine behavior, the less we need to think about it. That's one reason why entrenched behaviors are notoriously difficult to change—they happen without thinking.
Mark Milotich
Volatility, uncertainty and error lead to unpredictable outcomes. This can be a major cause of stress. But volatility will help you if you have options that allow you to profit from the upside without bearing a large cost from the downside.
Mark Milotich
Are you concerned about setting priorities? It may surprise you to learn that the concept of priorities (plural) has been around for less than 100 years. Before that, life was simpler—there was only a singular priority.
Brain-Based Practices for Leaders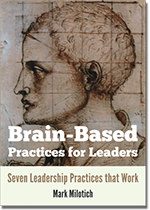 Seven leadership practices that work. We explain the research behind why each practice works and offer suggestions on how you can use it to improve personal and professional success.
What readers are saying
…chock full of the latest brain science to explain not just what you should do to be a great leader & manager but importantly—WHY.
—Amazon Customer
Well thought out and researched, brilliantly structured and with great and positive advice.
—Brianna Summers
Great read, direct and to the point. No fluff. Great for reference.
—Yaboy19
Let's start the conversation
Use the form below, send us an email or give us a call. We will never share your information.
Stay in touch!
Claxus GmbH
Schachenstrasse 80
CH-8645 Jona
Switzerland